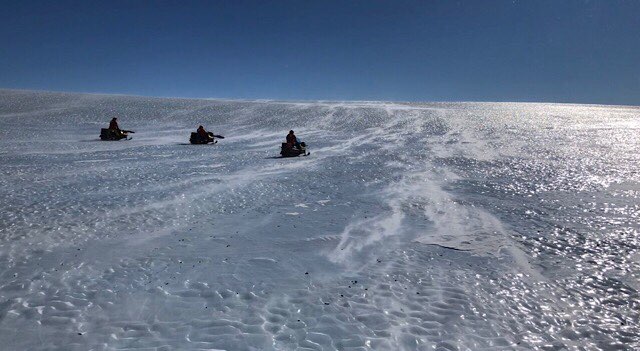 '
'Twas the night before Christmas and all across the ice,
Not a creature was stirring, not even the mice.
The Poo Tent was occupied, and the flag planted with care,
In hopes that a movement  soon would be there.
The meteorite hunters were nestled all snug in their beds,
While visions of achondrites danced in their heads.
And Brian with his puffy and Jim drinking a Coke,
Were sitting in their tent, telling dirty jokes.
When out on the ice, there arose such a clatter,
I sprang from my sleeping bag to see what was the matter.
Away to the vestibule, I flew like a flash,
Tore open the frozen zipper and threw up the sash.
The sun on the breast of the new fallen snow,
Gave the lustre of midday to space rock below.
When what to my wondering eyes should appear,
But an ancient skidoo that still drives far and near.
With a little old driver so lively and fine,
I knew in a moment it must be Johnny Alpine!
More rapid than eagles, his hunters they came,
And he whistled and he shouted and called them by name.
Now Brian, now Ringo, now Paul, now Jim,
On Elena, on Brian, on Ralph, and Sheridan.
To the top of the nunatak, to the top of the wall
Now hunt away, hunt away, hunt away all.
Mounted on skidoos, the ANSMETers did fly,
When they met with a sastrugi, they took to the sky.
So from the moraine, the hunters they flew,
With the skidoo full of meteorites, and Johnny Alpine too.
And then in a twinkling I heard from afar,
This meteorite is the biggest so far!
As I drew in my head and turned around,
I drove my skidoo to see what Paul had just found.
His eyes- how they twinkled. His dimples how merry,
His cheeks were like roses. His nose like a cherry.
His droll little mouth was drawn up in a bow
And the beard on his chin was coated in snow.
And laying a finger aside from his nose,
He pushed on his cheek, where the frostnip had rose.
The team had all gathered to see this great find,
Wow, oh wow, this is one of a kind!
We spoke not a word, but went straight to our cause,
Collecting the specimen, without even a pause.
Johnny sprang to his skidoo, to his team gave a yell,
Time to go back to the tents, it's as cold as hell!
But I heard him exclaim, as he drove out of sight,
Merry Christmas to all, and to all a good night!